SEDATION: Intranasal sedatives
Table of contents:
Introduction to IN medications for sedation (click here)
Literature review and discussion
Dental procedural sedation (click here)
Emergency department and outpatient clinic procedural sedation (click here)
Pre-operative sedation (click here)
Radiologic procedural sedation (click here)
Agitated adults - sedation with intranasal haloperidol, midazolam or lorazepam (click here)
Special Focus - Intranasal Ketamine for sedation
Intranasal flumazenil and intranasal naloxone as a reversal agents (click here)
Personal insights from experienced clinicians (click here)
Treatment protocol (click here)
Interactions with medical providers are stressful experiences for children. Because of this stress and the anxiety it provokes, minor procedures often require mild to moderate sedation. Oral or rectal medications may be adequate for this sedation, however these delivery routes requires a considerable amount of time to take effect leading to delays in care and interrupted patient flow. Furthermore, since sedatives have wide inter-individual variations to response, it is difficult to find a single weight-based dose that is adequate to routinely sedate a patient but not so high as to cause prolonged sedation. This is not a problem if the medication can be titrated, but oral and rectal medications are not really reasonable methods for titration. Intramuscular injections suffer similar problems in terms of delay in effect (not as much as oral) and difficulty in titrating to adequate but not excessive sedation. A further major problem with IM injections is that they are painful and frightening to the patient. Intravenous therapy is the gold-standard for sedation – allowing rapid onset with titratable effect. It is ideal for any major procedure, but establishing an IV in a child is time and resource consuming for minor procedures. It also leads to an increased risk of respiratory depression due to the very high levels of medication that are achieved with bolus injection therapy. Finally, starting an IV is painful and frightening for many patients.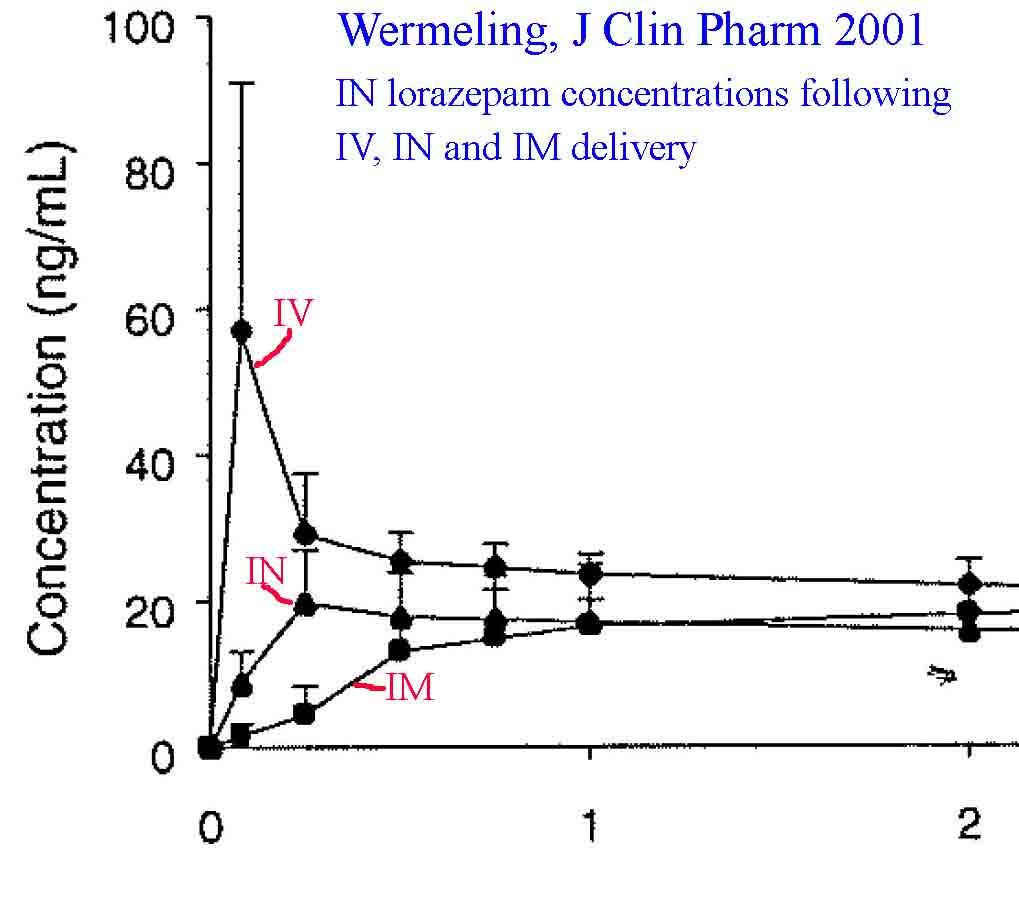 Intranasal and oral transmucosal (buccal, sublingual) delivery of sedative medications offers an alternative that provides some advantages over the above methods in properly selected minor procedure: they are faster than oral or rectal forms and less painful than injectable forms. Situations where investigators have found them to be useful include dental procedures, minor pediatric laceration repairs, anxiolysis prior to radiologic procedures such as MRI, pediatric preoperative sedation to assist with separation anxiety as well as sedation before other minor procedures including IV starts, biopsies, esophagogastroduodenoscopy (EGD) and ophthalmologic procedures.
The appropriate method and medication chosen for sedation will depend on the clinical situation. If time is not an issue, oral forms are adequate. If deep sedation and rapid titration are needed, IV forms are probably indicated. If mild to moderate sedation in a timely fashion is needed nasal medications may be ideal. The three most commonly studied medications for intranasal sedation are midazolam, sufentanil and ketamine. The following discussion will provide some insight into the literature on this topic.
Literature overview and discussion
The dental literature contains the largest collection of data regarding intranasal medication use for sedation. In one of the original articles on the topic, Abrams et al compared the effects of single therapy with intranasal ketamine (3 mg/kg), midazolam (0.4 mg/kg) or sufentanil (1.0 and 1.5 mcg/kg) in children getting brief dental procedures.[1]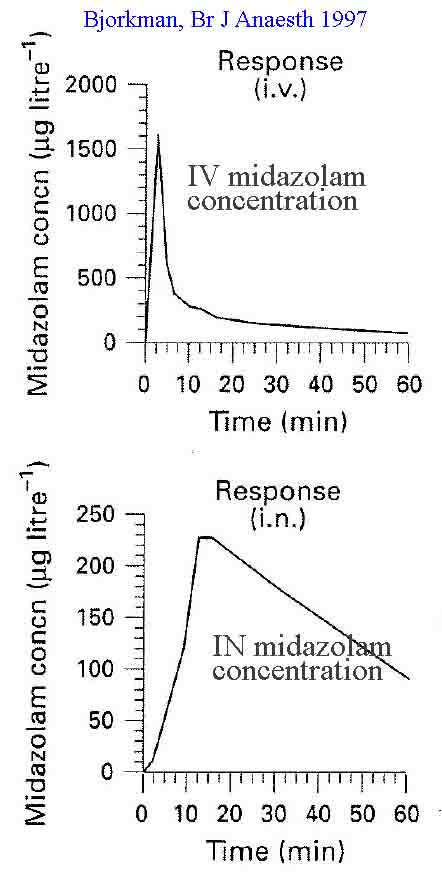 They felt either midazolam or ketamine worked quite well (4/5 sedation score), as did the lower dose of sufentanil. However, sufentanil at 1.5 mcg/kg led to over sedation and oxygen desaturation. Ten years later Roelofse et al compared combination therapy with intranasal sufentanil plus midazolam (1 mcg/kg plus 0.3 mg/kg) versus intranasal ketamine plus midazolam (5 mg/kg plus 0.3 mg/kg) 20 minutes prior to induction in a dental surgery center.[2] They found both methods easy, effective, safe and rapid in onset. A smooth mask induction occurred in the majority of patients. They concluded that intranasal medication is a promising method of sedating preschool dental patients.
Another interesting finding is that compliance with nasal sedation is easier to achieve that with oral sedation in young children. Primosch et al found intranasal midazolam a useful alternative to oral midazolam in their dental clinic since a significant number of children (45%) refused to swallow the oral formulation.[5]
Ozen and colleagues compared nasal to oral midazolam in combination with nitrous oxide and found that the nasal formulation was superior in terms of successful sedation for the procedure.[71]
Manley et al describe their experience using intranasal midazolam to sedate adults with learning disabilities.[54] Due to dose-volume issues they concentrated the midazolam to 40 mg/ml (see photo below). They also added lidocaine to the medication to reduce burning during administration. They delivered 10 mg (0.25 ml) intranasally using a mucosal atomization device to enhance mucosal coverage. In a study of 222 adult sedations they found 93% success at sedation with no respiratory complications, allowing them to avoid the need for general anesthesia in the majority of cases. (Click here for article)
Manley 2008 - label for their concentrated midazolam: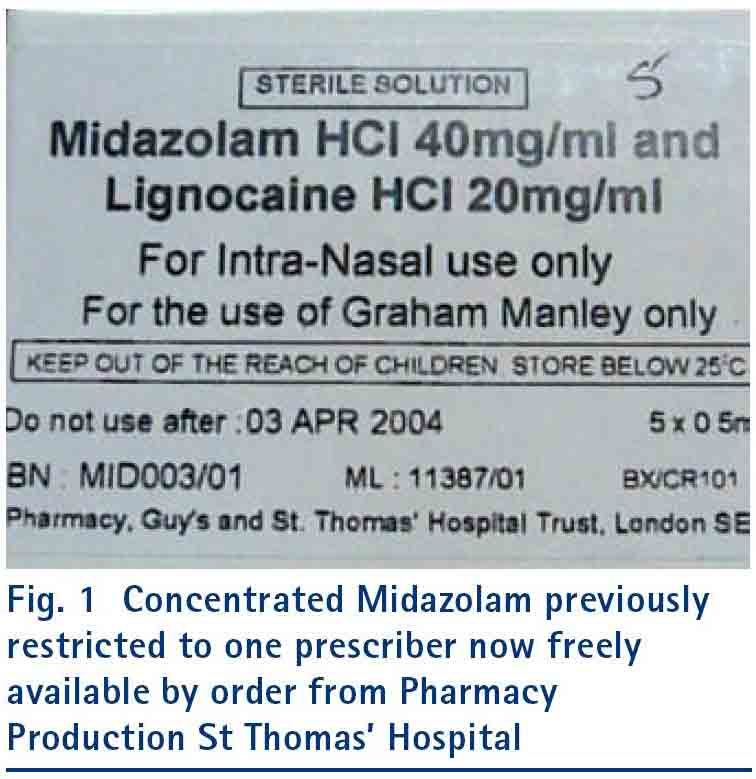 In a follow-up prospective multicenter trial, Ransford, Manley and colleagues confirmed the efficacy of intranasal midazolam for sedation of adult dental patients with disabilities. They studied an additional 316 patients and found a dose of 10 mg of intranasal midazolam (the dose given to over 90% of cases) to be effective at sedation in 80% of adults, allowing IV cannulation and dental examination as needed. They noted a 3% incidence of oxygen desaturation that was easily reversed with stimulation and oxygen.[58]
Click here for a document for U.K. clinicians where they can order this formulation of nasal midazolam plus lidocaine.
Many other authors have used IN midazolam for pediatric and mentally disabled adult sedation and anxiolysis prior to procedures with generally good results and little if any safety concerns in doses ranging from 0.2 to 0.4 mg/kg. [6-13, 57]
In addition to these articles there is a discussion related to intranasal ketamine and dexmedetomidine for sedation (including dental patients) below.
The sum of this dental literature suggests that intranasal medications, specifically midazolam, are easy to use and effective mild sedatives prior to dental procedures. They can be used in non-compliant patients such as small children and mentally disabled adults and they have few significant safety issues reported with the exception of over sedation when higher doses of sufentanil (1.5 mg/kg or more) are used.
A number of studies exist investigating intranasal medication delivery for minor procedural sedation in the emergency department. Acworth compared intranasal midazolam (0.4 mg/kg) to IV ketamine (1 mg/kg) plus IV midazolam (0.1 mg/kg) for minor procedural sedation in the emergency department.[14] Not surprisingly the IV therapy was more effective and easier to titrate – 100%. However, intranasal midazolam provided adequate sedation in 92% of patients and resulted in discharge 19 minutes earlier than the IV therapy group. The authors conclude that IV therapy is superior but that IN therapy may still be adequate in many minor procedures.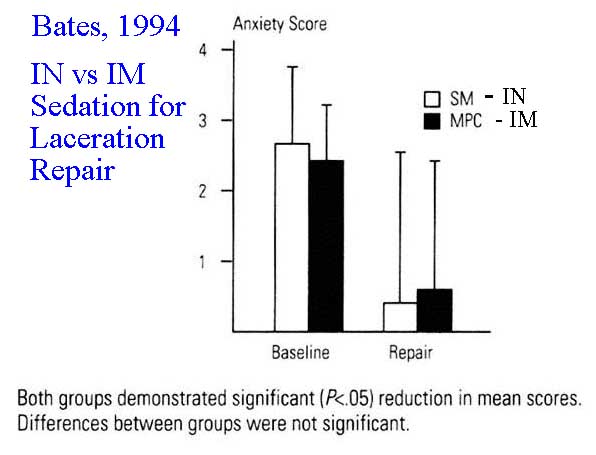 Bates et al investigated the combination of intranasal sufentanil (0.75 mcg/kg) plus intranasal midazolam (0.2 mg/kg) to an intramuscular injection of meperidine, promethazine and chlorpromazine (IM-MPC) for sedation prior to laceration repair.[15] The investigators chose these lower intranasal doses based on safety concerns with combined therapy. Based on past experience, they felt that these low doses of intranasal sufentanil or midazolam were not reliably effective if given as single drugs. Never the less, their results indicate that the combination of IN sufentanil and midazolam in low doses was as effective as intramuscular MPC in sedating children for laceration repair. Furthermore, since the children tolerated the IN medication better than the IM medication and they had both shorter recovery times and times to discharge it might be a preferred sedation method for minor laceration repairs.
Yealy et al report their experience with IN midazolam dosing in 40 children undergoing laceration repair.[16] They found that IN doses of 0.2 to 0.29 mg/kg were inadequate (27% adequate sedation), 0.3 to 0.39 mg/kg was better (80% adequate sedation) but 0.4 to 0.5 mg was best (100% adequate sedation). Onset of sedation averaged 12 ± 4 minutes, recovery 41± 9 minutes and discharge 56 ± 11 minutes. They do not report problems with desaturation or respiratory depression even at the higher dose. Theroux et al found similar efficacy of IN midazolam in doses of 0.4 mg/kg with marked improvement in patient cooperation compared to placebo.[17]
Klein conducted a well designed randomized controlled trials noting more rapid onset of action and superior sedation when midazolam was given intranasally versus buccally or orally.[63] As noted in almost all studies, the intranasal route burned with administration and caused more discomfort. However, as has been noted by other authors this burning is easily overcome by pretreatment with topical lidocaine (see discussion of concerning an article by Chiaretti reviewed in the next paragraph.)
Link to a YouTube video review on the doctors network (click here)
Review of this study by English physician (click here)
Kawanda conducted a study using nasally delivered midazolam to assist with outpatient surgical interventions in a very poor area of Africa, where no anesthetists and very limited medical resources were available.[68] Here is the ultimate indication for nasal drugs - to cut costs and improve patient care even in a country with very limited medical resources. These authors were able to more comfortably perform procedures such as I&D abscesses, reduce femur fractures, do circumcisions, and perform thoracentesis using nasal midazolam. They found this therapy resulted in less crying, better cooperation, and they needed fewer assistants to restrain the patient. Their overall cost for care - atomizer device plus generic drug - was 4.5 Euros. They conclude "Intranasal midazolam is a cheap and effective way to treat pain in children during surgical procedures in poor countries, when anesthetists are not available, as well as making the surgeons job easier." My only suggestion is to add a nasal opiate to the mix to get both sedation and excellent pain control.
Acker and Jamieson investigated IN midazolam for a minor pediatric gynecologic procedure – separation of labial adhesions.[96] Here is their abstract: "Use of orally administered flavored midazolam elixir in the office setting has been previously described as an alternative to general anesthetic for manual separation of severe or persistent labial adhesions. We share the technique of using atomized intranasal midazolam for sedation (and amnesia) that has quicker onset, shorter duration, and well described safety and patient tolerance. This technique eliminates the problems associated with a child who refuses to swallow the elixir."
Shavit et al looked at another minor procedure that is frequently performed – catheter urine collection from small girls at risk for UTI.[97] They compared 163 sedated with midazolam (either oral or nasal) to 174 who were not. They found half as many contaminated specimens resulted (12% vs 26%) with no serious side effects and a slightly longer length of stay in the ED (3 hours vs. 2.5 hours).
In addition to these articles there is a discussion related to intranasal ketamine for sedation (including emergency patients) below.
Nasal burning with intranasal midazolam
One common symptom associated with IN midazolam is nasal burning for the first 30-60 seconds.[18] Bates did not find this to be the case with combined IN sufentanil and midazolam, whereas other investigators such as Everitt have found burning to be an issue when midazolam is used alone.[15, 18] The authors of this site have found this to be very common with midazolam but not with any other drugs. Parents should likely be informed of this initial side effect so they are not surprised if their child cries even with a nasal medication. Another option is to delivery topical lidocaine a few minutes prior to application of the midazolam. Chiaretti et al investigated this concept in a prospective clinical trial of 46 young children published in October 2010. After topical lidocaine sprayed (given by their mothers), all children received 0.5 mg/kg of intranasal midazolam – half the dose up each nostril. No child reported any nasal burning or bitter taste.[61] All children achieved the minimal goal of minor sedation (awake but sedated) and mild reactivity (mild reactions that do not disturb the procedure). Mean duration of sedation was 23 minutes – onset in about 7 minutes, off by 30 minutes. Doctor and parent satisfaction scores were very high (8.8 and 9.8 on a scale of 10). The sedation protocol was particularly helpful for peripheral IV placement. There were no serious side effects, no over sedation and no oxygen desaturations less than 95%. Manley [54], Ransford [58] and Antonio [70] all support the concept of combining lidocaine either before or at the same time as topical nasal irritant like midazolam to prevent burning and irritation.
Besides pointing out a new way to eliminate the burning seen with midazolam, Chiaretti's study also reaffirms how safe midazolam is when given via the nose. No reports exist of any significant respiratory depression or desaturation when IN midazolam has been used alone. This is likely due to the fact that intranasal midazolam delivery leads to drug absorption over a few minutes rather than an instant bolus that is seen with IV therapy. This slower onset of action probably prevents serum levels from crossing the respiratory depression threshold.
Lidocaine eliminates the burning and bitter taste associated with intranasal midazolam link.
In summary, the majority of emergency department sedation articles involve sedation prior to minor laceration repair in children. Drug doses required for successful sedation for laceration repair (midazolam at 0.4 to 0.5 mg/kg) need to be slightly higher than that described in the dental literature where inhaled nitric oxides is often used in combination. Combined nasal sufentanil plus midazolam was successful using lower doses. Intravenous therapy is superior to intranasal therapy but requires an IV to be established – a painful and resource consuming procedure.
Separation anxiety and acceptance of the mask during induction of general anesthesia are issues that lead many clinicians to prefer sedating children in the pre-operative phase before they take them from their parents into the operating theatre. Oral medications are commonly used but have considerable delays in onset, whereas IV and IM medications are painful and frightening. This has led several investigators to consider intranasal medications as an alternate method of achieving smoother separation and mask acceptance.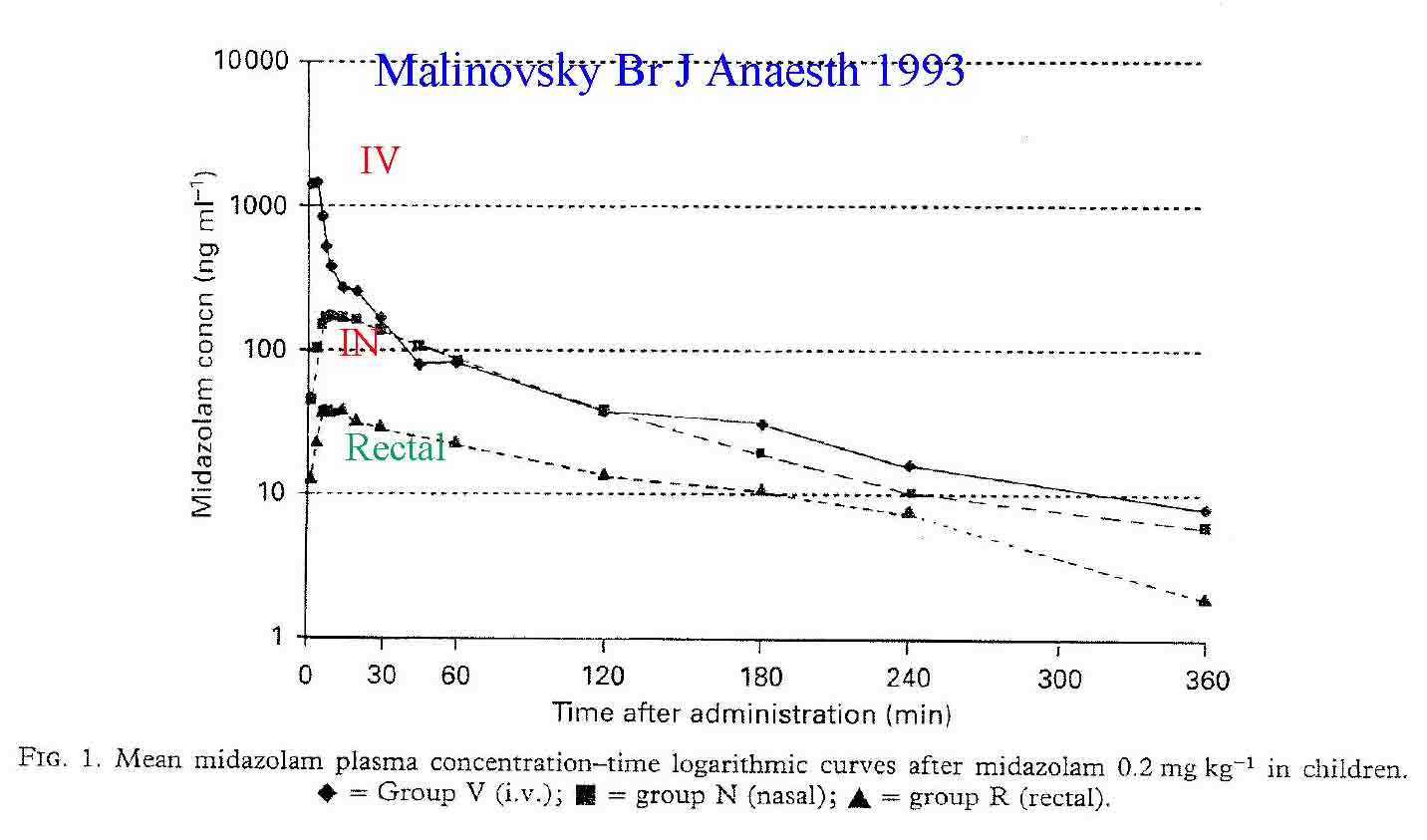 Malinovsky et al compared the time of sedation onset and peak serum midazolam levels in children randomized to intranasal (0.2 mg/kg), oral (0.5 mg/kg) or rectal (0.3 mg/kg) medication for pre-operative sedation.[19] They found the mean onset of sedation was fastest and peak levels highest for nasal midazolam (7.7 minutes, 146 ng/ml peak at 11.5 minutes) compared to oral (12.5 minutes, 104 ng/ml peak at 21 minutes) and rectal dosing (16.3 minutes, 93 ng/ml peak at 23 minutes). The authors conclude that intranasal midazolam is an excellent alternative for rapid premedication of pediatric surgical patients.
Bayrak et al investigated oral midazolam (0.5 mg/kg), oral tramadol (0.3 mg/kg) and intranasal sufentanil (2 mcg/kg) for pre-operative sedation.[20] They found oral midazolam and intranasal sufentanil very effective for sedation and mask acceptance. However, IN sufentanil at this high dose led to significant decreases in oxygen saturation and respiratory rate – an effect they accepted since they placed the patients under general anesthesia shortly thereafter. Karl et al conducted a similar study comparing low dose IN midazolam (0.2 mg/kg) to high dose intranasal sufentanil (2 mcg/kg).[21] Both drugs markedly reduced separation anxiety, however they also found this dose of sufentanil led to oxygen desaturation as well minor chest wall stiffness. Zedie also compared intranasal midazolam (0.2 mg/kg) to intranasal sufentanil (2 mcg/kg) and found both equally effective at sedation.[22] They noted more nasal irritation and crying with the midazolam (71% versus 20%), but more nausea and vomiting and perhaps slightly reduced respiratory compliance with the sufentanil (34% versus 6%). Both drugs resulted in easy separation of the children from their parents.
Weber et al found that adding intranasal ketamine to midazolam further enhances onset of action with slight improvement in sedation.[23, 24] Weksler et al studied intranasal ketamine alone (6 mg/kg) and found it superior to intramuscular meperidine and promethazine for sedating children.[25] Many additional authors have similar experiences with easy separation and acceptance of mask ventilation following pretreatment of pediatric patients with intranasal midazolam.[26-30] Other investigators confirm the efficacy of intranasal sedatives, though nasal burning with midazolam was commonly described.[31-33, 66]
McCormick et al conducted a study with a bit of a twist - they investigate4d the efficacy of intranasal midazolam versus nebulized midazolam.[55] The nasal route resulted in far higher plasma levels, more sedation of faster onset. This is not surprising since many studies show that most nebulized drug ends up in the environment and not in the lung.
McCormick 2008: Plasma levels of midazolam following intranasal versus nebulized delivery:
In addition to these articles there is a discussion related to intranasal ketamine for sedation (including pre-operative patients) below.
Intranasal Dexmedetomidine and clonidine for sedation:
Recent interest has emerged in the anesthesia literature regarding α2 adrenergic agonists for sedation. The two medications investigated are clonidine and dexmedetomidine. These drug act on the CNS in the area of the locus ceruleus and induce EEG activity that resembles natural sleep. Patients who are treated with intranasal alpha-2 agonists are easily aroused - perhaps due to the sleep like state they are in - but they are also not as "silly" as those given midazolam, nor do they obtain amnesia to the events. The potential advantages of these drugs over nasal midazolam appear to be due to the fact that no transient nasal burning occurs, reduced confusional state is present after the procedure and there is no respiratory depression risk from the medication.
Talon et al conducted a randomized, controlled trial on 100 children comparing intranasal dexmedetomidine (2 ug/kg) to oral cherry flavored midazolam syrup (0.5 mg/kg).[51] He found dexmedetomidine to be more effective at inducing sleep and equivalent to oral midazolam in terms of conditions at induction (45 min later) and emergence. They also felt nasal medication was easier to administer because the child could not resister or spit it out. They concluded that intranasal dexmedetomidine was rapidly effective, reliable, safe and relatively less traumatic than oral midazolam syrup for pre-operative sedation.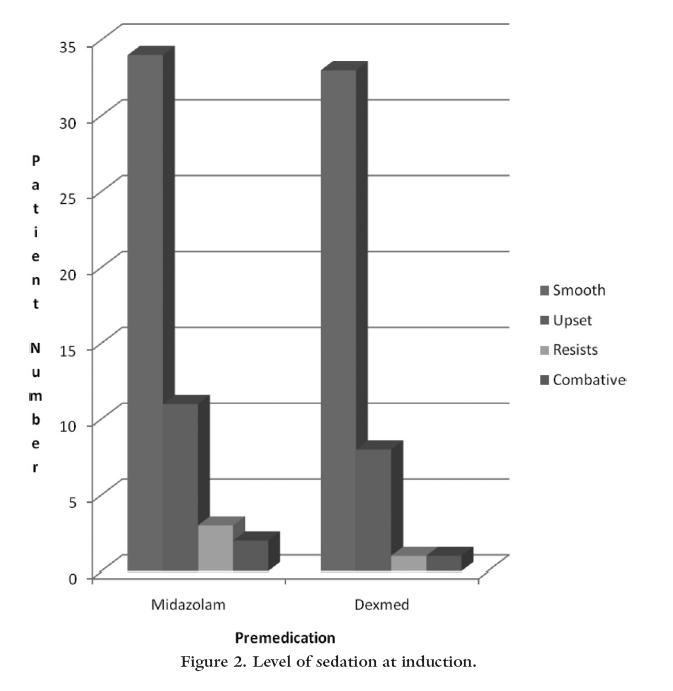 Talon et al - Level of sedation following intranasal dexmedetomidine versus oral midazolam

Yuen et al compared two different doses of intranasal dexmedetomidine (0.5 or 1.0 mcg/kg) to oral midazolam (5 mg/kg) in a preoperative sedation study of 96 children.[43] These authors found both doses of dexmedetomidine to be superior to oral midazolam for sedation and more adequate sedation at induction was present in patients receiving the 1.0 mcg/kg dose. In a follow-up study these authors found the onset of action of IN dexmedetomidine to be 25 minutes and duration of action to be 85 minutes.[59]

Stella and colleagues reported 3 cases of intranasal clonidine (1.5 to 2.0 mcg/kg) sedation in children.[44] In one case it was used to rescue a child who was having paradoxical agitation due to oral midazolam, another was a child who had many experiences with oral and nasal midazolam and refused any more - but was willing to try clonidine and did well with it. The third was a 3 month old agitated, hypertensive child with renal disease who obtained both sedation and blood pressure control with nasal clonidine. In all cases onset was within 5 minutes. Both groups of authors found these medications useful for selected patient populations and suggest further research be conducted.

Sakurai noted transmucosal buccal dexmedetomidine was safe and effective for preoperative sedation of children.[56] They also found that the sedation was deeper than that achieved with rectal diazepam. The effective dose they used was 3-4 mcg/kg - slightly higher than other authors possibly due to the somewhat less bioavailability typically seen with buccal compared to nasal drugs. Sayal and colleagues found a nasal dose of only 0.5 mg/kg was ass effective as a similar dose of nasal midazolam for preoperative sedation (abstract - click here).

Mukherjee conducted a study comparing oral to nasal clonidine as a premedicant for pediatric population.[60] Two dosage of clonidine were used by both routes to determine optimum route and dosage of clonidine that produces optimum effect, quick onset and without any significant side effects. Sixty ASA grade I and II patients of either sex with age ranging between 1-7 years were scheduled for various elective surgical procedures of not more than 90 minutes duration in randomized prospective manner. The mean onset time for the intranasal group was 21.6±10.7 minutes (group 4 ug/kg) and 29.8 ±9.5 min (group 3ug/kg) while for the oral group it was 40.3 ± 6.7 min (group 4 ug/kg) and 47.1 ± 7.1 min (group 3 ug/kg). Sedation was mild but not deep – more of an anxiolytic than a deep sedative. It was well tolerated by both routes. The authors conclude that clonidine premedication causes anxiolysis and sedation leading to good mask acceptance and smooth induction. Nasal clonidine is felt to be better because of quicker onset of action compared to oral clonidine. Therefore, intranasal clonidine at a dose of 3 ug / kg-body weight may be preferred as higher dose does not improve the quality of sedation.

Walsh report their insights using IN dexmedetomidine for preoperative sedation in 15 children who refused or failed with oral midazolam. They found it 93% effective with better sedation and better emergence using 2-3 mcg/kg dosing.

Iirola et al provide further evidence of intranasal dexmedetomidine in the adult setting [67]. In a crossover trial comparing IN to IV dexmedetomidine in healthy volunteer adult men they found onset of sedation at 38 minutes and bioavailability of 65%.

Akin et al compared IN dexmedetomidine to IN midazolam and found both effective for preoperative sedation, though they felt intranasal midazolam provided better conditions at induction while dexmedetomidine resulted in superior pain control post-operatively.[69]

Cheung

et al report on the first clinical trial using IN dexmedetomidine in adults.[62] The results demonstrate better sedation at the time of surgery, less use of propofol during surgery and better post-operative pain relief. The authors make specific comments regarding the long length of action making it fairly ideal for pre-operative sedation since there is considerable variation between time of delivery and final arrival in the operating suite. Despite this length of action there was no delay in recovery for this type of dental surgical extraction (perhaps this would not be the case for something fast like a myringotomy).

Other d

ata from 2011 further support the efficacy of intranasal dexmedetomidine as superior to oral midazolam and similar to a low dose of intranasal midazolam in terms of pre-operative sedation in children.[64, 65]

Cimen and colleagues noted that nasal dexmedetomidine (1 mcg/kg) was also superior for preoperative sedation compared to the same drug given buccally.[93] this is yet another study confirming clinical superiority of nasal drugs compared to buccal drugs likely related to total bioavailability and nose-brain pathway issues.

Nooh et al conducted a crossover RCT for patients receiving tooth extraction comparing IN saline vs. IN dexmedetomidine followed 30 minutes later by local anesthesia and found markedly improved sedation and toleration of the procedure with IN dexmedetomidine. [94]

Jayaraman et al investigated IN dexmedetomidine as a premedication sedative/anxiolytic prior to bariatric surgery.[99] They compared it to oral alprazolam in 40 adults. They chose IN dexmedetomidine due to the belief it would cause adequate sedation with no respiratory depression. The authors confirmed this hypothesis and found the sedative effect superior to oral alprazolam at 45 minutes and at time of intubation. (Click for link to the free article)

Mitra et al randomized 60 children to either IN midazolam 0.3 mg/kg (5 mg/ml generic solution) or IN clonidine 4 mcg/kg (150 mcg/ml solution) plus 0.6 mg of atropine.[101] The primary outcome was adequate sedation at 30 minutes. Secondary outcomes were crying after drug delivery and mask acceptance in the operating suite. All 60 patients (30 per group) achieved adequate sedation by 30 minutes though it was faster onset (20 minutes) with midazolam. The clonidine group had better acceptance of the drug with less crying and they had better mask acceptance and calmer awakening. The authors conclude: "intranasal clonidine has been shown to produce comparable level of sedation as effective anxiolysis as nasal midazolam after 30 min, but with a better mask acceptance and recovery profile."

In summary, generic midazolam, sufentanil, ketamine, clonidine and dexmedetomidine (which is not generic) all appear effective in sedating children, reducing separation anxiety and improving mask acceptance in the pre-operative pediatric setting. Midazolam can lead to nasal burning and crying while sufentanil at high doses (2 mcg/kg) can cause excessive respiratory depression and mild chest wall stiffness. The α2 adrenergic agonists appear to cause more of a sleep like state - easing separation, but also easily aroused. The option of intranasal preoperative sedation might be most useful in situations where the prior case ends quickly and the next patients has not had sufficient time for their oral medication to take effect (or has not even received it). In this case, nasal sedatives are rapidly effective (5-10 minutes), reliable and possibly titratable.

Intranasal dexmedetomidine comments by Joyce Phillips, MD on a list serve - click here

Detailed document describing IN dexmedetomidine use for multiple sedation procedures

IN Precedex for CT scanning abstract

IN dexmedetomidine for preoperative sedation abstract

Sedation for radiologic procedures is commonly administered to prevent excessive patient motion and for problems with claustrophobia. Agents with rapid onset of action, short duration of effect and ease of administration are preferred for these relatively brief, painless procedures. Since intranasal medication delivery with midazolam fulfills all of these criteria it has been used in multiple studies with excellent results.

Low doses of intranasal medication (midazolam) appears to be especially effective for cross-sectional imaging such as MRI and CT. Hollenhorst randomized adult patients scheduled for MRI to a single dose of 4 mg IN midazolam versus placebo.[34] They found they achieved better quality exams with no cancellations in the study arm, whereas the quality decreased and 15% could not complete the MRI in the placebo group. Tschirch et al randomized adult patients to nasal (1-2 mg) versus oral midazolam (7.5 mg). Patients treated with nasal midazolam had a 97% success rate in obtaining a quality MRI while half of the orally treated patients could not finish the exam.[35] These authors view low dose IN midazolam as an effective and patient friendly solution to overcoming anxiety and claustrophobia in patients undergoing MRI. In a similar study Moss et al found they could reduce the need for IV sedatives from 67% to 17% by using IN midazolam prior to MRI imaging. Louon and Reddy also noted effective sedation and improved computed tomographic image quality when using a combination of nasal ketamine and midazolam in pediatric patients.[36] Weber compared IN midazolam to rectal chloral hydrate prior to brain imaging. Midazolam was effective in 82% of cases with mean time to test completion being 55 minutes. Chloral hydrate often required re-dosing to complete the study (70% completed) and required 42 minutes additional time to successfully obtain images. There was a clear preference of the nursing staff for intranasal midazolam over rectal chloral hydrate. Harcke and Grissom found 0.2 mg/kg of IN midazolam adequate to calm their pediatric patients for imaging studies and recommend its routine use with pulse oximetry as a safe and effective minor sedative.[37] Chokshi et al. found atomized intranasal midazolam at a dose of 0.5mg/kg very effective for separation anxiety and sedation for both MRI and CT scans in children.[98] A study by Filho et al evaluated the utility of IN midazolam for sedation of children prior to CT scanning.[100] They found it to be reliable, predictable, with little side effects, allowing high quality CT imaging with little artifact. The conclusion: "this appears to be a useful technique of safe sedation for imaging that could be valuable in pediatric emergency departments."

In addition to these articles there is a discussion related to intranasal ketamine for sedation (including radiology patients) below.
Second dose "titration" of intranasal midazolam
Lazol et al describe their experience using intranasal midazolam for minor sedation prior to pediatric echocardiography.[52] These authors review their results on 100 patients, using 0.2 to 0.3 mg/kg IN midazolam for the initial dose, and following up in 10-15 minutes with a second identical dose if inadequate sedation was present. They achieved 24% adequate sedation with the initial low dose, and 80% adequate sedation following the second dose. They report no adverse effects with either dose. This study points out a key component to sedation and pain control that most clinician are already aware of - the concept of titration to effect. Like IV medications, nasal sedatives and pain medications demonstrate inter-individual variation in patients, requiring additional dosing to achieve adequate effect. Fortunately, titration is possible and if one dose is not adequate, simply give another dose. A second observation can be made from this study - that of using an adequate initial intranasal dose in the first place. Many clinicians fail to use adequate IN drug doses, have inadequate effect and assume the drug is not useful when given via the nose - because they are u sing IV doses rather than the needed higher nasal doses. Based on extensive publication data and personal insights from years of use, the authors of this web site suggest an initial dose on 0.4 to 0.5 mg/kg of intranasal midazolam since lower doses are well known to be inadequate most of the time (the exception being if you simply wish the patient to be calm for a CT scan, but do not intend to do any procedure- in which case a lower dose such as in this study would be adequate).
In summary, nasal midazolam is very effective both in adults and children for sedation prior to CT and MRI imaging as well as for echocardiography. The use of this method speeds up patient care, reduces the rate of incomplete exams and improves the image quality. Fairly low doses (0.2 mg/kg in children, 1-4 mg total in adults) are effective and safe for CT and MRI, while higher doses appear to be warranted, and titration to effect is needed in invasive procedures such as echocardiography.
Miscellaneous sedation (ophthalmology, endoscopy, biopsy)
Numerous additional indications have been described for intranasal sedation including upper GI endoscopy, ophthalmologic examinations in the anxious patient and minor biopsy procedures. Two studies have found IN midazolam to provide acceptable amnesia and mild sedation for EGD, though IV therapy was superior.[38, 39] Two additional studies note rapidly effective sedation to enhance ophthalmologic exam in children and one study describes relief of anxiety surrounding minor procedures such as venous blood sampling, IV catheter placement or subcutaneous IV port access.[40-42]
Sedation Li
terature Summary:
Summing up the literature, several general impressions can be stated. First, the three most commonly used intranasal sedation agents (midazolam, sufentanil, ketamine) all seem to have an effect in 5-10 minutes, peak in 12-20 minutes and become less effective after about 30-40 minutes though perhaps longer for higher doses of sufentanil. With the limited available evidence, it appears that a combination of midazolam plus sufentanil or midazolam plus ketamine achieves slightly more effective and deeper sedation than any alone. On the other hand, for simple induction of drowsiness for non-painful procedures such as MRI, a single agent such as midazolam at a low dose (0.2 mg/kg) is very effective. In terms of safety, it is very rare to see any desaturations with midazolam or ketamine. However, sufentanil in higher doses (> 1.5 mcg/kg) appears to have an increased incidence of nausea, vomiting, reduced respiratory rate and oxygen desaturation with occasional chest wall tightening described at dose ³ 2 mcg/kg - emphasizing the importance of careful monitoring with sufentanil therapy. Midazolam appears quite safe via the nasal route and it is an effective sedative and amnestic for minor procedures. It is also an effective alternative to oral formulations when patients refuse to swallow the oral dose. However it causes brief nasal mucosal burning following application. This burning may lead to crying immediately following application in children and parents must be forewarned to expect this initial response.
In addition to this discussion there is a separate discussion related to intranasal ketamine for sedation (including emergency patients) below.
Acutely agitated patients present a dangerous situation to both themselves and to health care providers. For this reason, they are often physically restrained and provided pharmacologic sedation as soon as possible. Traditionally sedative is administered via an intramuscular shot because IV's are notoriously difficult to establish and maintain, while oral therapy is usually refused by the patient. However, intramuscular administration of medications in these patients carries a substantial risk of needle stick injury to the health care provider - alternate routes of drug delivery would be useful. Too date, very little literature exists on this topic – perhaps due to the nearly impossible requirement of obtaining informed consent to conduct such a trial. Never the less there is some limited data to suggest that intranasal delivery of medications such as midazolam, lorazepam and haloperidol are effective. In 2004 Neff et al reported a small case series of adult ambulance patients (5 total) who were treated with intranasal midazolam (10 mg in 2 ml dose was their protocol) for acute agitation.[45] Despite failing to provide the entire dose as directed in 3/5 patients, they were still able to obtain resolution of the agitation 60% of the time. Manley et al showed adequate pre procedural sedation in > 90% of mentally disabled adults using a concentrated form of midazolam (40 mg/ml) and administering 10 mg to an adult - avoiding the need for general anesthesia in these situations (click here for article).[55]Lorazepam may also be effective in this situation. Wermeling et al reports lorazepam bioavailability at 78% when given intranasally,[46] and one of the web authors has used intranasal lorazepam in multiple acutely agitated patients (2 mg IN in adults) with about 70% effectiveness and fairly prolonged sedation (several hours). Finally, intranasal haloperidol may offer another option for intranasal sedation of acutely agitated adults. Miller et al report maximal serum levels of Haldol occurring in 15 minutes following intranasal delivery with rapid onset of sedation.[47] They conclude that intranasal haloperidol or other similar antipsychotic medications could play a role in treating psychiatric emergencies. Clearly all of this data is preliminary and would ideally undergo more rigorous research, but it does suggest an option (why not try first rather than risk a needle stick?) for EMS and ER providers to try before they move onto more invasive and dangerous treatment options.

There is a growing interest in the effectiveness of intranasal ketamine for pain control and for sedation. For insight into the literature on pain control please click here to move into the pain section of this web site where effectiveness of nasal ketamine for pain is discussed. Below is an overview of the literature that investigates nasal ketamine and its impact on sedation. The first section summarizes the editors overall view of the evidence, the remainder is a summary of each published article to date in chronological order so you can make your own conclusions.

Summary of evidence and insights regarding intranasal ketamine for sedation:

About 20 studies are reviewed below and similar patterns emerge from this data: Nasal ketamine is not 100% absorbed – probably more in the 40-50% range with peak effects and blood levels at about 20 minutes, so doses need to be adjusted upwards above the IV and IM dose if ones goal is dissociative anesthesia. It is clear that doses less than 5 mg/kg simply do not lead to reliable sedation – they may cause anxiolysis, but they do not lead to depths of sedation adequate for procedures beyond reducing separation anxiety. Doses in the 5-6 mg/kg range do lead to some sedation, but rarely dissociative anesthesia so once again they are not sufficiently reliable for a painful procedural interventions in many children. Doses of 9-10 mg/kg do seem to reliably provide dissociative anesthesia levels of sedation in children such that painful procedures are possible. Unfortunately the majority of research to date does not use a dose this high so we cannot be entirely clear how frequent this high dose will fail. Interestingly the authors of the original research on the topic in the 1980's offer a simple solution: Begin with a moderate dose and volume – say 6 mg/kg intranasally, wait 10 minutes, if you do not find dissociative anesthesia and nystagmus to your liking, just administer an additional 3 mg/kg dose up to two additional times. Using this titrated effect the authors established adequate procedural anesthesia in 98% of patient within 15 minutes. This approach also offers a solution to the "volume" issue of nasal drugs. You can administer more appropriate volumes (less runoff and swallowing) if you titrate with several doses rather than give a large nasal bolus all at once. Combination therapy with a benzodiazepine or synthetic opiate may also be considered. A combination of 6 mg/kg of ketamine plus 0.3 mg/kg of midazolam seems to achieve fairly reliable sedation without respiratory depression in a number of studies.

In summary, for mild sedation adequate to relieve anxiety but not to conduct a painful procedure, use a nasal ketamine dose of at least 5 mg/kg. If you actually intend to do a painful or complex procedure you will need a dose in the 10 mg/kg range which can be achieved by either a single large dose, or by initial administration of 6 mg/kg and 10 minutes later an additional 3-4 mg/kg. Dissociative anesthesia onset is usually within 5-15 minutes. Combination therapy with midazolam or sufentanil also seems quite effective and a lesser dose of ketamine in the 5-6 mg/kg range is adequate when combined therapy is provided.

Finally, there is emerging interest in ketamine therapy for depression and bipolar disorder. Already there exists a pediatric study noting marked reduction in symptoms using intranasal ketamine in children with these symptoms.[95]

Summary of published articles - listed chronologically:

Aldrete 1987: Aldrete used a titrated dose of ketamine to induce preoperative sedation in 42 children and compared that to a control group without sedation.[72] Using an initial dose of 3 mg/kg and progressing to as much as 9 mg/kg as needed the investigators were able to successfully perform smooth mask induction in 41/42 children compared to only 22/42 in the control arm. The onset of nystagmus and sedation was between 3 and 15 minutes (longer for those requiring titrated dosing).

Click here for link to the abstract

Editorial comment: It is unfortunate this study is only published as an abstract so it is not more well known. This 25 years ago these authors recognized that titration of drug was possible with nasal sedatives – they gave a small dose of ketamine (3 mg/kg) waited a few minutes and repeated with 1.5 to 3.0 mg/kg additional doses until the child was having nystagmus and progressing to a more dissociative state. At that point they took the child out of mothers' arms and went to the operating room. Using this titrated approach they were able to successfully deeply sedate 98% of the cases. Too bad the next 25 years of research never repeated this research design and instead locked themselves into a single often inadequate dosing plan. Perhaps future researchers into intranasal ketamine should consider this type of study design as most of us utilize this approach with all other IV sedation techniques (IV benzos, propofol, etc).

Aldrete 1988: I am unable to access this article so cannot review the information. [73]

Lin 1990: These authors compared placebo to intranasal ketamine (3 mg/kg) and rectal ketamine (6 mg/kg) for preoperative anxiolysis.[74] Based on their abstract (I cannot get the full article) they found that the ketamine group tolerated mask induction better than the placebo group.

Louon and Reddy for 1992: These authors investigated a combination of intranasal ketamine (5 mg/kg) plus midazolam (0.5 mg/kg) for use as a mild sedative to calm children for pediatric computed tomography.[75] The study was conducted in the early 1990's when these tests routinely lasted over an hour, so sedation was absolutely needed to obtain adequate films. They dripped a quite high volume of drug into the child's nose over 5-10 minutes and then transferred them to CT when they were asleep. This single non-titrated dose led to adequate mild sedation (sleeping for a CT scan) in 83% of cases and there was no respiratory depression.

Abrams 1993: Abrams et al compared nasal ketamine 3 mg/kg to midazolam 0.4 mg/kg and sufentanil 1.5 mcg/kg in children requiring sedation for minor dental procedures.[76] In this early research they diluted the drug with saline and they dripped it in with a syringe (They mention a concern about OVER absorption and too strong of an effect with atomization). They found that these doses of ketamine and midazolam resulted in "acceptable" sedation (minor fussing, no struggle) with rapid recovery while sufentanil at the dose they chose resulted in over-sedation with oxygen desaturation and prolonged recovery.

Editorial comment: Sufentanil at the doses used here will lead to sedation since this opiate causes both pain control as well as sedation. Outpatient studies from the emergency room suggest doses in the 0.5 mcg/kg range are successful for pain control with little sedation, however this editorialist has used nasal sufentanil extensively and found a number of situations where mild sedation and even mild hypoxia (oxygen saturations of 88%) will occur in the elderly at this lower dose. Children tend to metabolize sufentanil more rapidly and effectively, but it is a very powerful opiate and it is very lipophilic so it is not surprising that a dose of 1.5 mcg/kg led to significant sedation.

Louon 1993: This is a case report where the clinicians used a combination of intranasal ketamine 6 mg/kg with midazolam 1 mg/kg to perform cryotherapy on a premature baby suffering from retinopathy of prematurity.[77] Due to the concerns surrounding IV cannulation and general anesthesia they instead chose rapid, brief sedation using the intranasal route. They found combination nasal therapy very effective and safe in this premature baby population and they did not see any cardiopulmonary compromise.

Weksler 1993: This study compared intranasal ketamine 6 mg/kg to intramuscular promethazine and meperidine (0.1 ml/kg of a mix containing 10 mg/ml of each drug).[78] 86 children were given ketamine and 62 the intramuscular drugs. Ketamine sedation was excellent in 48, adequate in 19 and failed in 19 (22%). Promethazine and meperidine induced sedation was excellent in 9, adequate in 12 and failed in 41 (66%). The authors concluded that nasal ketamine was an appropriate alternative to other routes of drug delivery for preoperative sedation.

Malinovsky 1996: This study investigated the pharmacokinetics of ketamine given as IV dose (3 mg.kg), nasal dose (either 3 or 9 mg/kg) and rectal dose (9 mg/kg) in children who were already under general anesthesia.[79] The authors found that nasal ketamine peaks at 20 minutes while rectal peaks at 42 minutes. Calculated bioavailability for the nasal drug was 50% while it was 25% for the rectal route. Furthermore they found that 9 mg/kg of nasal ketamine resulted in plasma levels comparable to the IV induction dose used to provide deep anesthesia. The rectal drug pharmacokinetics were more like an oral drug suggesting significant first pass metabolism of rectally delivered drug.

Editorial – This early study goes a long ways towards helping us understand nasal dosing of ketamine. Low doses in the 3 mg/kg range do not result in high plasma levels so would not be expected to cause significant sedation, though they are likely fine for pain control. Higher doses in the 9 mg/kg range achieve general anesthesia plasma levels. All future clinical studies using nasal ketamine confirm these findings – doses less than 5 mg/kg cause mild anxiolysis and good pain control but little effective sedation, 5-6 mg/kg leads to fair sedation, while 9-10 mg/kg nasal doses lead to deeper sedation. Future researchers could same themselves some effort should they pay attention to these repeated dosing findings and consider titration as was shown in Aldrete.

Diaz 1997: This double blind RCT comparing IN ketamine 3 mg/kg in 2 ml solution to saline for reducing separation anxiety and accepting the mask in the operating theatre.[80] While they did find a statistically significant improvement in overall cooperation index compared to placebo, the clinical significance of this score difference is unclear (5.4 vs 6.1 on a 4 to 12 scale – lower being preferred) since it appears to be relatively small change in anxiety.

Editorial comment - Once again – small doses of a drug that is not highly bioavailable do not result in dramatic clinical effects such as significant sedation.

Weber 2003: This study randomized children scheduled for surgery into 3 groups and investigated the efficacy of varying doses of nasal ketamine plus midazolam or midazolam alone for preoperative sedation.[81] The 3 groups (30 children each) received either ketamine 1 mg/kg plus midazolam 0.2 mg/kg, ketamine 2 mg/kg plus midazolam 0.2 mg/kg, or midazolam 0.2 mg/kg alone. They freely admit that their goal was simply anxiolysis without deep sedation – they just wanted to dampen the stress of separation from the parents. For this reason the doses they chose were quite low and they never had deep sedation in any child. Although they documented mild sedation/anxiolysis, there was little difference between the groups - Basically they found mildly better sedation in the higher combined dose of drug over the lower or single drug regimen.

Yanagihara 2003: This is a small volunteer study looking at bioavailability data when ketamine was delivered via multiple routes.[82] Due to tiny sample size and unclear delivery techniques it is a bit difficult to make firm conclusions. They found oral drug to be about 20% bioavailable, sublingual and rectal 30% and nasal 45%. They recommend the appropriate delivery route to match the clinical indication.

Weber 2004: In this investigation the authors compared serum ketamine levels in children who received 2 mg/kg of either IV ketamine or nasal ketamine.[83] They found that IV levels peaked in the first three minutes whereas nasal peaked in 18 minutes. They also noted that IV serum levels were approximately 5 times higher than peak nasal drug levels (1860 vs 355 ng/ml) and that at a dose of 2 mg/kg intranasally one would not expect effective sedative levels of ketamine.

Roelofse 2004: These authors randomized 50 children undergoing multiple dental extractions (6 or more teeth) to preoperative intranasal sufentanil plus midazolam (1 mcg/kg plus 0.3 mg/kg) or intranasal ketamine plus midazolam (5 mg/kg plus 0.3 mg/kg).[84] They measured the preoperative acceptability of the spray, ease of mask induction, anxiety score, sedation score, and post-operative pain score, behavior score and any adverse reactions. In both groups they found the drugs were easily delivered with an atomizer, had rapid onset with good sedation and had easy mask induction and equivalent post-operative pain control with no reported side effects. They conclude that either method is acceptable and effective.

Editorial comment: This study along with a few others suggest that one can achieve adequate sedation with 5 mg/k of ketamine if at the same time a fairly adequate dose of another sedative is also used.

Kazemi 2005: Kazemi and colleagues randomized 130 preoperative patients to receive either placebo, midazolam 0.2 mg/kg or Ketamine 5 mg/kg intranasally as a sedative.[85] They found that both active drugs resulted in equal amounts sedation and reduction in reaction to IV cannulization. About 60% of the sedation was considered "mild" while 20-30% was felt to be "good." Both drugs were far superior compared to placebo.

Editorial comment – we already know that 0.2 mg/kg of midazolam is relatively inadequate for sedation so these results are not surprising and essentially confirm all prior literature on the topic. However, given this study results we have one more bit of information suggesting that 5 mg/kg of intranasal ketamine alone is also barely adequate for sedation – a conclusion confirmed by other studies. The study is quite well designed in terms of randomization and placebo controlled so the results are believable. The biggest errors noted that might have further impacted drug efficacy are the fact that they diluted the drug to 2 ml and dripped it in rather than aerosolized the drug.

Gharde 2006: This randomized trial comparing intranasal ketamine to intranasal midazolam or a combination of the two is one of the better trials providing us insight into the effectiveness of intranasal ketamine for this indication.[86] It is a good trial because they actually used an appropriately high dose of ketamine (10 mg/kg) to achieve success at both sedation and pain control. They did make a pretty basic error in their midazolam dosing using a dose well known to be fairly ineffective for sedation (0.2 mg/kg). In this group of 60 children, the 40 who received nasal ketamine all achieved excellent scores for sedation (3.75/4) and for tolerance of separation (3.9/4) from parents and IV cannulation (3.9/4). Scores for separation and cannulation in the midazolam cohort where significantly lower. The authors conclude that intranasal ketamine was "excellent" for separation and was probably more effective than midazolam because it provides both sedation and pain control and therefore there was little or no fussing when an IV cannula was started.

Berner 2007: This is a report of a case noting anxiolysis and sedation in an adult with psychiatric problems. The article provides an case relating to successful use of intranasal ketamine for the treatment of refractory intermittent explosive disorder, finding a dose of up to 60 mg effective with use of over 200 mg in a day leading to some hallucinosis.[87]

Gautam 2007: This study investigated IN midazolam 0.2 mg/kg vs. IN ketamine 5 mg/kg for efficacy of preoperative sedation and reduction of separation anxiety in 50 children. They found onset of good sedation in about 2/3 of patients in both groups at about 15 minutes time.[88]

Comment: Again this is another study noting anxiolysis but not reliable sedation at nasal ketamine doses in the 5 mg/kg range.

Pandey 2011: This study investigated both the efficacy of intranasal ketamine for sedation in uncooperative children undergoing dental procedures as well as the relative acceptance of drop vs atomizer administered drug.[89] The authors studied 34 children in a cross-over model so each child was their own control. 68 procedures were evaluated. They found that intranasal ketamine at 6 mg/kg resulted in a goal of adequate sedation in 91-97% and successful procedural efficacy in 85-94% of cases (drops versus atomized). They found patient acceptance of nasal drug delivery was far higher using the atomizer compared to drops (70% excellent vs. 23% excellent, 6% poor versus 44% poor). These same authors published additional data on 45 patients confirming the slightly superior efficacy of IN ketamine over IN midazolam in another paper also in the pediatric dental literature.[90]

Editorial – Here is a paper suggesting that 6 mg/kg of intranasal ketamine is adequate for moderate sedation in the vast majority of time in children. Atomization is far superior to dropper application in terms of patient acceptance.

Click here for the entire article

Tsze 2012: This small emergency department study investigated the efficacy of intranasal ketamine for sedation of children who required laceration repair.[91] They randomized children to doses of 3, 6 or 9 mg/kg in a blinded fashion. After randomizing 12 patients they were required to suspend the study and break the code due to 9 of 12 failures to sedate. They found that all children who received 3 mg/kg or 6 mg/kg failed to achieve adequate procedural sedation based on their predefined calculation using the observations scale of behavioral distress (OSBD-R). They also measured serum levels and found them considerably lower than those noted in the Malinovsky paper from a few years prior. Three of 4 children receiving the 9 mg/kg fentanyl dose were adequately sedated for suturing within 4-9 minutes. The authors conclude that in the emergency setting with completely awake children, only the 9 mg/kg dose was effective for sedation and that a larger trial using this higher dosing is needed to determine actual efficacy and side effect profiles. One other interesting bit of information reported by this article was the concept that ketamine sedation is an on-off phenomenon and all that is needed is an adequate serum level at which point the patient enters a phase of dissociative anesthesia that is not further enhanced by more medication. Therefore – if the adequate level can be achieved, the patient should become dissociated. If this is true, then titration of dose via the nose, as demonstrated 25 years earlier, would be an ideal way to progress to adequate sedation in most children.

Hosseini Jahromi 2012: These authors randomized 120 children into 4 groups to determine the effectiveness of intranasal medications for reducing preoperative separation anxiety.[92] They used quite low doses of drug: 0.2 mg/kg of midazolam versus 0.5 mg/kg or 3 mg/kg of ketamine versus placebo. Not surprisingly they found little efficacy though in this study they felt midazolam was superior in causing sedation and reducing anxiety.

Editorial comment: Having done a lot of research in my career and knowing how much effort is expended for a few pages of print in a journal I find studies like this a bit tragic. Based on over 20 years of prior studies the results of this study are a forgone conclusion and the authors should have known this when they wrote the study design. I only included it here for completeness sake and to hope that other researchers might notice these comments and results and not continue to make the same mistakes when investigating nasal medications – if you fail to give a therapeutic dose based on drug bioavailability, you will also fail to find a positive result. This does not mean the concept is flawed, just that you gave the wrong dose.

Cimen 2013: Cimen and colleagues noted that nasal dexmedetomidine (1 mcg/kg) was also superior for preoperative sedation compared to the same drug given buccally.[93] this is yet another study confirming clinical superiority of nasal drugs compared to buccal drugs likely related to total bioavailability and nose-brain pathway issues.

Nooh 2013:

Nooh et al review the efficacy of IN dexmedetomidine (1.5 mcg/kg) vs placebo for sedation of 18 adult patients undergoing bilateral third molar extraction.[94] Patients acted as their own controls – one session receiving extraction on one side randomized to either the drug or placebo, the next session the opposite side and alternate solution. 30 minutes following the intranasal delivery of the solution, the patients underwent local anesthetic injection. Both their sedation scores and their sensation of pain during injection were scored. Patients who received the nasal dexmedetomidine had much higher sedation scores that lasted 70-80 minutes. The authors conclude that "Intranasal administration of 1.5 μg/kg atomized dexmedetomidine is effective, convenient, and safe as a sedative for patients undergoing third molar extraction."

A concern that often comes up regarding administration of sedatives and opiates to patients who are given these powerful drugs via the intranasal route is how they can be reversed should too much sedation develop (since they presumably do not have an intravenous line). The first point that needs to be considered is whether significant respiratory depression requiring intervention beyond oxygen therapy will even occur from intranasal drug delivery. To date it has not been reported for midazolam and it does not even seem to occur with very high doses of the extremely powerful drug sufentanil. This is probably because the medications absorb via the nasal mucosa are spread out over 10-15 minutes and never achieve peak levels seen with intravenous boluses (see detailed discussion on therapeutic threshold and side effect threshold concept in the overview section and the pain medication section - click here). Never the less, antidotes to opiates - i.e. naloxone - work very well intranasally as well as via subcutaneous and intramuscular routes (see separate section on this topic - click here). In terms of intranasal flumazenil - the benzodiazepine antagonist - there is limited data but that which exists also suggests that it is effective when administered via the nasal route. Two animal studies found transmucosal flumazenil delivered via the sublingual route resulted in rapidly measurable serum drug levels that achieved the therapeutic threshold and approached 100% bioavailability.[48,49] One of these studies actually demonstrated reversal of benzodiazepine induced sedation about 4 minutes after drug delivery.[48] Two human studies exist in children using flumazenil intranasally Scheepers found maximal concentrations in the serum were achieved very quickly (2 minutes), again at therapeutic blood levels and concluded that this may offer an alternate delivery route for benzodiazepine antagonist reversal agents.[50] Heard presents a case where and child undergoing a dental procedure was over sedated using intranasal midazolam combined with intranasal sufentanil. [53] the authors responded to this problem by administering 0.4 on intranasal naloxone and 200 mcg of intranasal flumazenil. Three minutes following antidote administration the pati9ent was fully awake and did not become re-sedated during the next 2.5 hours of observation.
Doug Nelson, MD, Medical Director, Emergency Department, Primary Children's Medical Center, Salt Lake City, UT
We have been using the intranasal route for many years in our pediatric emergency department. Administering IN midazolam at a dose of 0.4 mg/kg results in effective sedation in >90% of children. More importantly we have never had a single adverse outcome in the literally thousands of children treated using this method.
Roni Lane, MD, Assistant Professor, Emergency Department, Primary Children's Medical Center, Salt Lake City, UT
I am one of 19 pediatric emergency medicine physicians practicing in a busy Level 1 Trauma center in a free standing children's hospital. We perform multiple sedations daily for a variety of procedures including closed fracture reduction, laceration repair, lumbar puncture, radiologic imaging and hernia reduction. Prior to the development of atomization devices, drip instillation of benzodiazepines frequently resulted in ineffective sedation with much of the medication lost to the oral cavity. For a number of years now, children undergoing minor procedures requiring sedation in our ED are given midazolam via a mucosal atomizer device resulting in successful sedation (anxiolysis) in 70-80% of patients. In addition, we use the mucosal atomizer device to deliver midazolam to patients who are seizing as well as fentanyl for some patients who are suffering from pain due to fractures. After thousands of sedations, we have noted no significant adverse events associated with midazolam administered in this fashion. With the exception of some nasal burning that occurs with administration, it is well tolerated. We are fortunate to have a method of providing effective light sedation in a fairly non-invasive fashion.
Mark Talon, MSN, CRNA, Department of Anesthesia, Shriners Hospital for Children, University of Texas Medical Branch - Galveston
The nasal atomizer has changed our pediatric practice significantly. We have
been using IN therapy in many different fashions over the last several years and have found dexmedetomidine to be a very valuable addition to our premedications. As a sole medication for procedural sedation dexmedetomidine is limited. Like clonidine the patient is easily arousable yet sedate in a fashion similar to normal sleep. Thus as a sole agent its effect is variable. Our practice for procedural sedation with dexmedetomidine is to combine 2ug/kg of IN dexmedetomidine with .5mg/kg of oral midazolam. This combination has proven to be far better then either the Precedex or midazolam as a sole agent and usually results in significant procedural sedation that allows us to remove burn wound dressings, pins and often do casting and molding without further intervention. We have used this method to sedate children for the MRI and CT scanners without problems. This is also our standard premedication for children less then 50kg going to surgery. The combined effects are relatively consistent with the majority of children and results in significant sedation in 30-40 minutes. Please realize that the majority of our children are very anxious as they have been through multiple surgeries and procedures for burn and reconstructive treatment, so they have been exposed to many pharmacological mixes. In normal children that have not been exposed to poly pharmacy the effects are much more consistent. The duration of action is approximately 1.5 hours at which point we see criteria that would meet discharge requirements. We have also used combinations of intranasal opiates for sedation and analgesia, but this is a much longer discussion.
Dan Tsze, MD; Assistant Professor, Hasbro Children's Hospital, Providence, RI
Our pediatric emergency department is currently conducting a trial that initially started by comparing three different doses of intranasal ketamine for procedural sedation for laceration repairs: 3, 6, and 9 mg/kg. We decided to use a mucosal atomizer to optimize nasal absorption and minimize the amount of solution that might be swallowed instead. We are utilizing the 100 mg/mL concentration, which was the highest concentration we could obtain, to minimize the volume needed. There is a 150 mg/mL concentration available from a pharmaceutical company (but they did not want to participate in our trial), as well as higher concentrations which were limited to veterinary medicine.
The study is double blinded, but we noticed that there was a large number of clinical failures, meaning patients who did not achieve adequate sedation within 30 minutes of drug administration. Our safety committee reviewed the data while we remained blinded, and made the recommendation to drop the 2 lower doses and consider adding a higher dose(s) to the trial. We revised the study and are now comparing 9 mg/kg and 12 mg/kg doses. We are not concurrently giving any midazolam or glycopyrrolate/atropine, and the patients range from 1 to 7 years old. We have limited the maximum dose to 300 mg (i.e. 3 mL), simply for pragmatic reasons related to total volume and discomfort related to intranasal administration.
As far as we can tell, while currently blinded, the time to onset of sedation has ranged anywhere from 6 minutes to just over 20 minutes. Patients who reached adequate sedation did not ever require "rescue" doses of additional ketamine to complete the laceration repairs, which were limited to simple lacerations less than 5 cm and did not require a consult service to perform the repair. Recovery times have been comparable to patients who have received IV ketamine. Unfortunately, since we are still blinded at this time, we cannot make any further comments regarding a specific dose and its effect.
Pat Crocker, DO, Chief of Emergency Medicine, Dell Children's Medical Center, Austin TX
We have had great success with IN fentanyl for immediate pain control in children and it is much quicker than waiting for an iv to be established. Giving the fentanyl IN immediately and applying some topical anesthetic cream makes subsequent iv insertion less traumatic for the child as well.
The combination of IN fentanyl and Versed prior to minor procedures and administration of local anesthetic has been quite useful as well. No child has fallen asleep at the suggested doses but generally is quite a bit more tractable for the procedure reducing our need for full sedations some. We have also combined the above with nitrous oxide for children 5 yo and older and get nice results.
Tom Macfarlane, MD, Emergency Physician, Salt lake City UT
Intranasal delivery of midazolam is an important niche therapy in my practice. I find it most useful in children who have a need for anxiolysis or light procedural sedation. I use it frequently for sedation in laceration repairs and in splinting of fractures that do not require reduction. Another common indication is light sedation for radiographic imaging. Onset is quite rapid and adverse events appear to be very rare. In addition patients are safe for discharge quite quickly thereby enhancing emergency department throughput. Overall I feel that this delivery route provides safe and effective light sedation in the emergency department.
General points:
Midazolam, ketamine, dexmedetomidine and sufentanil are the most commonly used sedative medications for IN delivery.

Midazolam results in mild somnolence with resultant reduction in anxiety and probably amnesia.

It will not make the patient unconscious.

Be aware that midazolam causes some nasal burning for 30-45 seconds when administered.

In small children you should administer lidocaine 2% or 4% - 0.2 ml per nostril 5 minutes prior to the midazolam to stop the burning.

Ketamine may result in deeper sedation and is dose dependent.

Sufentanil will also cause deeper sedation and in doses over 1.5 mcg/kg has been noted to cause respiratory depression.

Dexmedetomidine takes longer to take effect (20 minutes) and lasts longest of all (over 1 hour).

Combination therapy with midazolam plus either sufentanil or ketamine may work better than any of the medications alone

Newer data discussed above suggests that IN dexmedetomidine may be the best option for sedation

if more than just mild sedation is needed.
Reasonable IN starting dose:

Midazolam 0.3 to 0.5 mg/kg

Use the lower dose for minor, non-painful procedures such as radiographic imaging

Use the higher dose for better sedation prior to procedures such as laceration repair

Ketamine 5 to 10 mg/kg

Sufentanil 1 to 1.5 mcg/kg

(this is a higher dose than required for pain control and increases the risk for respiratory depression)

Dexmedetomidine 2-3 mcg/kg

Combined dosing:

Midazolam plus sufentanil: 0.2 to 0.3 mg/kg of midazolam plus 0.75 to 1 mcg/kg of sufentanil

Midazolam plus ketamine: 0.2 to 0.3 mg/kg of midazolam plus 5 mg/kg of ketamine

Use only concentrated midazolam (5 mg/ml) and ketamine formulations

Be sure to monitor oxygen saturation in all patients

Ideal volume is 0.3 to 0.5 ml per nostril, maximum is 1 ml per nostril, more will just run out nose.

Nasal naloxone and flumazenil can be used as reversal agents
Dosing tables in Non-English language
Deutsch / German language
Deutsch 2 (Editors note: the doses are too low for fentanyl and morphine - double the dose these chart recommends for better effect that is still safe - see above literature)
Italia / Italian language
Teaching materials:
Download a basic photographic display of how to draw up and administer intranasal midazolam for seizures or sedation (click here for MS word document 0.53 MB)
Peer Reviewed Articles -
Intranasal Midazolam for sedation
Al-Rakaf, Intra-nasal midazolam for conscious sedation of pediatric dental patients, Int J Ped Dentistry 2001 (click here) - PDF 0.32 MB
Manley, IN and IV midazolam for sedation in adults with learning disability, Br Dent Journal 2008
Click here for a document for U.K. clinicians where they can order this formulation of nasal midazolam plus lidocaine.
Morgans-Perri, MAD for IN midazolam pre-op, J Perianesthtic Nursing 2009 abstract
Intranasal ketamine for sedation
Kazemi, Intranasal ketamine versus intranasal midazolam for preoperative sedation in children, Pak J Med Sci 2005 (click here) - PDF 0.12 MB
Pandey, R.K., et al., A comparative evaluation of drops versus atomized administration of intranasal ketamine for the procedural sedation of young uncooperative pediatric dental patients: a prospective crossover trial. J Clin Pediatr Dent, 2011. 36(1): p. 79-84.
Intranasal Dexmedetomidine for sedation and premedication before anesthesia
Intranasal Precedex (dexmedetomidine) List Serve discussion for pediatric sedation prior to CT scans
Detailed document describing IN Precedex for in hospital pediatric sedation for many situations
Sundaram, A comparative evaluation of intranasal dexmedetomidine and intranasal midazolam for premedication in children: A double blind RCT. JIDA 2011;5(7):777-781. (Free Access)
Ghali, Preanesthetic medication in children: A comparison of intranasal dexemedetomidine versus oral midazolam. SJA 2011;5(4):387-391. (Free online viewing of article).
Intranasal clonidine for sedation and premedication before anesthesia
1. Abrams, R., et al., Safety and effectiveness of intranasal administration of sedative medications (ketamine, midazolam, or sufentanil) for urgent brief pediatric dental procedures. Anesth Prog, 1993. 40(3): p. 63-6.

2. Roelofse, et al., Intranasal sufentanil/midazolam versus ketamine/midazolam for analgesia/sedation in the pediatric population prior to undergoing multiple dental extractions under general anesthesia: a prospective, double-blind, randomized comparison. Anesth Prog, 2004. 51(4): p. 114-21.

3. Lee-Kim, S.J., et al., Nasal versus oral midazolam sedation for pediatric dental patients. J Dent Child (Chic), 2004. 71(2): p. 126-30.

4. Shashikiran, N.D., S.V. Reddy, and C.M. Yavagal, Conscious sedation-An artist's science! An Indian experience with midazolam. J Indian Soc Pedod Prev Dent, 2006. 24(1): p. 7-14.

5. Primosch, R.E. and F. Bender, Factors associated with administration route when using midazolam for pediatric conscious sedation. ASDC J Dent Child, 2001. 68(4): p. 233-8, 228.

6. Fuks, A.B., et al., Assessment of two doses of intranasal midazolam for sedation of young pediatric dental patients. Pediatr Dent, 1994. 16(4): p. 301-5.

7. Fukuta, O., et al., The sedative effect of intranasal midazolam administration in the dental treatment of patients with mental disabilities. Part 1. The effect of a 0.2 mg/kg dose. J Clin Pediatr Dent, 1993. 17(4): p. 231-7.

8. Fukuta, O., et al., The sedative effects of intranasal midazolam administration in the dental treatment of patients with mental disabilities. Part 2: optimal concentration of intranasal midazolam. J Clin Pediatr Dent, 1994. 18(4): p. 259-65.

9. Gilchrist, F., A.M. Cairns, and J.A. Leitch, The use of intranasal midazolam in the treatment of paediatric dental patients. Anaesthesia, 2007. 62(12): p. 1262-5.

10. Hartgraves, P.M. and R.E. Primosch, An evaluation of oral and nasal midazolam for pediatric dental sedation. ASDC J Dent Child, 1994. 61(3): p. 175-81.

11. Kaufman, E., et al., Comparison between intranasal and intravenous midazolam sedation (with or without patient control) in a dental phobia clinic. J Oral Maxillofac Surg, 1994. 52(8): p. 840-3; discussion 844.

12. Shapira, J., et al., The effectiveness of midazolam and hydroxyzine as sedative agents for young pediatric dental patients. ASDC J Dent Child, 1996. 63(6): p. 421-5.

13. Dallman, J.A., M.A. Ignelzi, Jr., and D.M. Briskie, Comparing the safety, efficacy and recovery of intranasal midazolam vs. oral chloral hydrate and promethazine. Pediatr Dent, 2001. 23(5): p. 424-30.

14. Acworth, J.P., D. Purdie, and R.C. Clark, Intravenous ketamine plus midazolam is superior to intranasal midazolam for emergency paediatric procedural sedation. Emerg Med J, 2001. 18(1): p. 39-45.

15. Bates, B.A., S.A. Schutzman, and G.R. Fleisher, A comparison of intranasal sufentanil and midazolam to intramuscular meperidine, promethazine, and chlorpromazine for conscious sedation in children. Ann Emerg Med, 1994. 24(4): p. 646-51.

16. Yealy, D.M., et al., Intranasal midazolam as a sedative for children during laceration repair. Am J Emerg Med, 1992. 10(6): p. 584-7.

17. Theroux, M.C., et al., Efficacy of intranasal midazolam in facilitating suturing of lacerations in preschool children in the emergency department. Pediatrics, 1993. 91(3): p. 624-7.

18. Everitt, I.J. and P. Barnett, Comparison of two benzodiazepines used for sedation of children undergoing suturing of a laceration in an emergency department. Pediatr Emerg Care, 2002. 18(2): p. 72-4.

19. Malinovsky, J.M., et al., Premedication with midazolam in children. Effect of intranasal, rectal and oral routes on plasma midazolam concentrations. Anaesthesia, 1995. 50(4): p. 351-4.

20. Bayrak, F., et al., A comparison of oral midazolam, oral tramadol, and intranasal sufentanil premedication in pediatric patients. J Opioid Manag, 2007. 3(2): p. 74-8.

21. Karl, H.W., et al., Comparison of the safety and efficacy of intranasal midazolam or sufentanil for preinduction of anesthesia in pediatric patients. Anesthesiology, 1992. 76(2): p. 209-15.

22. Zedie, N., et al., Comparison of intranasal midazolam and sufentanil premedication in pediatric outpatients. Clin Pharmacol Ther, 1996. 59(3): p. 341-8.

23. Weber, et al., Premedication with nasal s-ketamine and midazolam provides good conditions for induction of anesthesia in preschool children. Can J Anaesth, 2003. 50(5): p. 470-5.

24. Weber, et al., S-ketamine and s-norketamine plasma concentrations after nasal and i.v. administration in anesthetized children. Paediatr Anaesth, 2004. 14(12): p. 983-8.

25. Weksler, N., et al., Nasal ketamine for paediatric premedication. Can J Anaesth, 1993. 40(2): p. 119-21.

26. Malinovsky, J.M., et al., Plasma concentrations of midazolam after i.v., nasal or rectal administration in children. Br J Anaesth, 1993. 70(6): p. 617-20.

27. Otsuka, Y., et al., [Intranasal midazolam for sedation before anesthesia in pediatric patients]. Masui, 1994. 43(1): p. 106-10.

28. Rose, E., D. Simon, and J.P. Haberer, [Premedication with intranasal midazolam in pediatric anesthesia]. Ann Fr Anesth Reanim, 1990. 9(4): p. 326-30.

29. Saint-Maurice, C., et al., The use of midazolam in diagnostic and short surgical procedures in children. Acta Anaesthesiol Scand Suppl, 1990. 92(1): p. 39-41.

30. Vivarelli, R., et al., [Premedication with intranasal midazolam in children of various ages]. Minerva Anestesiol, 1998. 64(11): p. 499-504.

31. Karl, H.W., et al., Transmucosal administration of midazolam for premedication of pediatric patients. Comparison of the nasal and sublingual routes. Anesthesiology, 1993. 78(5): p. 885-91.

32. Khazin, V., S. Ezra, and A. Cohen, Comparison of rectal to intranasal administration of midazolam for premedication of children. Mil Med, 1995. 160(11): p. 579-81.

33. Kogan, A., et al., Premedication with midazolam in young children: a comparison of four routes of administration. Paediatr Anaesth, 2002. 12(8): p. 685-9.

34. Hollenhorst, J., et al., Using intranasal midazolam spray to prevent claustrophobia induced by MR imaging. AJR Am J Roentgenol, 2001. 176(4): p. 865-8.

35. Tschirch, F.T., et al., Low-dose intranasal versus oral midazolam for routine body MRI of claustrophobic patients. Eur Radiol, 2007. 17(6): p. 1403-10.

36. Louon, A. and V.G. Reddy, Nasal midazolam and ketamine for paediatric sedation during computerised tomography. Acta Anaesthesiol Scand, 1994. 38(3): p. 259-61.

37. Harcke, H.T., L.E. Grissom, and M.A. Meister, Sedation in pediatric imaging using intranasal midazolam. Pediatr Radiol, 1995. 25(5): p. 341-3.

38. Fishbein, M., et al., Evaluation of intranasal midazolam in children undergoing esophagogastroduodenoscopy. J Pediatr Gastroenterol Nutr, 1997. 25(3): p. 261-6.

39. Uygur-Bayramicli, O., et al., Sedation with intranasal midazolam in adults undergoing upper gastrointestinal endoscopy. J Clin Gastroenterol, 2002. 35(2): p. 133-7.

40. Gobeaux, D., et al., [Intranasal midazolam in pediatric ophthalmology]. Cah Anesthesiol, 1991. 39(1): p. 34-6.

41. Louon, A., et al., Sedation with nasal ketamine and midazolam for cryotherapy in retinopathy of prematurity. Br J Ophthalmol, 1993. 77(8): p. 529-30.

42. Ljungman, G., et al., Midazolam nasal spray reduces procedural anxiety in children. Pediatrics, 2000. 105(1 Pt 1): p. 73-8.

43. Yuen, V.M., et al., A comparison of intranasal dexmedetomidine and oral midazolam for premedication in pediatric anesthesia: a double-blinded randomized controlled trial. Anesth Analg, 2008. 106(6): p. 1715-21.

44.

Stella, M.J. and A.G. Bailey, Intranasal clonidine as a premedicant: three cases with unique indications. Paediatr Anaesth, 2008. 18(1): p. 71-3.

45. Neff, C., S.M. Joyce, and A. Allred, Efficacy and safety of intranasal midazolam administration by EMS personnel for seizures and sedation. NAEMSP Winter abstracts, 2006.

46. Wermeling, D.P., et al., Bioavailability and pharmacokinetics of lorazepam after intranasal, intravenous, and intramuscular administration. J Clin Pharmacol, 2001. 41(11): p. 1225-31.

47. Miller, J.L., et al., Comparison of intranasal administration of haloperidol with intravenous and intramuscular administration: A pilot pharmacokinetic study. Pharmacotherapy, 2008. 28(7): p. 875-882.

48. Heniff, M.S., et al., Comparison of routes of flumazenil administration to reverse midazolam-induced respiratory depression in a canine model. Acad Emerg Med, 1997. 4(12): p. 1115-8.

49. Oliver, F.M., et al., Comparative pharmacokinetics of submucosal vs. intravenous flumazenil (Romazicon) in an animal model. Pediatr Dent, 2000. 22(6): p. 489-93.

50. Scheepers, L.D., et al., Plasma concentration of flumazenil following intranasal administration in children. Can J Anaesth, 2000. 47(2): p. 120-4.

51. Talon, M.D., et al., Intranasal Dexmedetomidine Premedication is Comparable With Midazolam in Burn Children Undergoing Reconstructive Surgery. J Burn Care Res, 2009. 30(4): p. 599-605.

52. Lazol, J.P. and C.G. DeGroff, Minimal sedation second dose strategy with intranasal midazolam in an outpatient pediatric echocardiographic setting. J Am Soc Echocardiogr, 2009. 22(4): p. 383-7.

53. Heard, C., P. Creighton, and J. Lerman, Intranasal flumazenil and naloxone to reverse over-sedation in a child undergoing dental restorations. Paediatr Anaesth, 2009. 19(8): p. 795-7.

54. Manley, M. C., N. J. Ransford, et al., Retrospective audit of the efficacy and safety of the combined intranasal/intravenous midazolam sdation technique for the dental treatment of adults with learning disability. Br Dent J, 2008. 205: p 1-5.

55. McCormick, A.S., et al., Plasma concentrations and sedation scores after nebulized and intranasal midazolam in healthy volunteers. Br J Anaesth, 2008. 100(5): p. 631-6.

56. Sakurai, Y., et al., Buccal administration of dexmedetomidine as a preanesthetic in children. J Anesth, 2010. 24(1): p. 49-53.

57. Wood, M., The safety and efficacy of intranasal midazolam sedation combined with inhalation sedation with nitrous oxide and oxygen in paediatric dental patients as an alternative to general anaesthesia. SAAD Dig, 2010. 26: p. 12-22.

58. Ransford NJ, Manley MC, Lewis DA, Thompson SA, Wray LJ, Boyle CA, et al. Intranasal/intravenous sedation for the dental care of adults with severe disabilities: a multicentre prospective audit. Br Dent J 2010;208(12):565-9.

59. Yuen VM, Hui TW, Irwin MG, Yao TJ, Wong GL, Yuen MK. Optimal timing for the administration of intranasal dexmedetomidine for premedication in children. Anaesthesia 2010.

60. Mukherjee, S., et al., Clonidine Premedication for Paediatric Patients: A comparison of the oral & nasal route. J Anaesth Clin Pharmacol, 2010. 26(3): p. 319-322.

61. Chiaretti, A., G. Barone, et al. (2010). "Intranasal lidocaine and midazolam for procedural sedation in children." Arch Dis Child.

62. Cheung, C.W., et al., Analgesic and sedative effects of intranasal dexmedetomidine in third molar surgery under local anaesthesia. Br J Anaesth, 2011. 107(3): p. 430-7.

63. Klein, E.J., et al., A Randomized Clinical Trial Comparing Oral, Aerosolized Intranasal, and Aerosolized Buccal Midazolam. Ann Emerg Med, 2011.

64. Sundaram, A comparative evaluation of intranasal dexmedetomidine and intranasal midazolam for premedication in children: A double blind RCT. JIDA 2011;5(7):777-781. (Free Access)

65. Ghali, Preanesthetic medication in children: A comparison of intranasal dexemedetomidine versus oral midazolam. SJA 2011;5(4):387-391. (Free online viewing of article).

66. Koppal R, Adarsh ES, Ambi U, Anilkumar G. Comparison of the midazolam transnasal atomizer and oral midazolam for sedative premedication in paediatric cases. JCDR 2011;5:932-934

67. Iirola, T., et al., Bioavailability of dexmedetomidine after intranasal administration. Eur J Clin Pharmacol, 2011. 67(8): p. 825-31.

68. Kawanda, L., et al., Sedation with intranasal midazolam of Angolan children undergoing invasive procedures. Acta Paediatr, 2012. 101(7): p. e296-8.

69. Akin, A., A. Bayram, et al. (2012). "Dexmedetomidine vs midazolam for premedication of pediatric patients undergoing anesthesia." Paediatr Anaesth 22(9): 871-876.

70. Antonio, C., J. Zurek, et al. (2011). "Reducing the pain of intranasal drug administration." Pediatr Dent 33(5): 415-419.

71. Ozen, B., S. F. Malamed, et al. (2012). "Outcomes of moderate sedation in paediatric dental patients." Aust Dent J 57(2): 144-150.

72. Aldrete, J.A., et al., Intranasal Ketamine as induction adjunct in children: Preliminary report. Anesthesiology, 1987. 67(3): p. A514.

73. Aldrete, J.A., L.J. Russell, and F.A. Davis, Intranasal administration of ketamine: possible applications. Acta Anaesthesiol Belg, 1988. 39(3): p. 95-6.

74. Lin, S.M., et al., Rectal ketamine versus intranasal ketamine as premedicant in children. Ma Tsui Hsueh Tsa Chi, 1990. 28(2): p. 177-83.

75. Louon, A. and V.G. Reddy, Nasal midazolam and ketamine for paediatric sedation during computerised tomography. Acta Anaesthesiol Scand, 1994. 38(3): p. 259-61.

76. Abrams, R., et al., Safety and effectiveness of intranasal administration of sedative medications (ketamine, midazolam, or sufentanil) for urgent brief pediatric dental procedures. Anesth Prog, 1993. 40(3): p. 63-6

77. Louon, A., et al., Sedation with nasal ketamine and midazolam for cryotherapy in retinopathy of prematurity. Br J Ophthalmol, 1993. 77(8): p. 529-30.

78. Weksler, N., et al., Nasal ketamine for paediatric premedication. Can J Anaesth, 1993. 40(2): p. 119-21.

79. Malinovsky, J.M., et al., Ketamine and norketamine plasma concentrations after i.v., nasal and rectal administration in children. Br J Anaesth, 1996. 77(2): p. 203-7.

80. Diaz, J.H., Intranasal ketamine preinduction of paediatric outpatients. Paediatr Anaesth, 1997. 7(4): p. 273-8.

81. Weber, et al., Premedication with nasal s-ketamine and midazolam provides good conditions for induction of anesthesia in preschool children. Can J Anaesth, 2003. 50(5): p. 470-5.

82. Yanagihara, et al., Plasma concentration profiles of ketamine and norketamine after administration of various ketamine preparations to healthy Japanese volunteers. Biopharm Drug Dispos, 2003. 24(1): p. 37-43.

83. Weber, et al., S-ketamine and s-norketamine plasma concentrations after nasal and i.v. administration in anesthetized children. Paediatr Anaesth, 2004. 14(12): p. 983-8.

84. Roelofse, J.A., et al., Intranasal sufentanil/midazolam versus ketamine/midazolam for analgesia/sedation in the pediatric population prior to undergoing multiple dental extractions under general anesthesia: a prospective, double-blind, randomized comparison. Anesth Prog, 2004. 51(4): p. 114-21.

85. Kazemi, A.P., H. Kamaliopour, and M. Seddighi, Comparison of intranasal midazolam versus ketamine as premedication in 2-5 years old paeditric surgery patients. Pak J Med Sci, 2005. 21(4): p. 460-464.

86. Gharde, P., S. Chauhan, and U. Kiran, Evaluation of efficacy of intranasal midazolam, ketamine and their mixture as premedication and its relation with bispectral index in children with tetralogy of fallot undergoing intracardiac repair. Ann Card Anaesth, 2006. 9(1): p. 25-30.

87. Berner, J.E., Intranasal ketamine for intermittent explosive disorder: a case report. J Clin Psychiatry, 2007. 68(8): p. 1305.

88. Gautam, S.N., et al., Intranasal midazolam Vs ketamine as premedication in paediatric surgical procedure for child separation and induction. Nepal Med Coll J, 2007. 9(3): p. 179-81.

89. Pandey, R.K., et al., A comparative evaluation of drops versus atomized administration of intranasal ketamine for the procedural sedation of young uncooperative pediatric dental patients: a prospective crossover trial. J Clin Pediatr Dent, 2011. 36(1): p. 79-84.

90. Bahetwar, S.K., et al., A comparative evaluation of intranasal midazolam, ketamine and their combination for sedation of young uncooperative pediatric dental patients: a triple blind randomized crossover trial. J Clin Pediatr Dent, 2011. 35(4): p. 415-20.

91. Tsze, D.S., et al., Intranasal Ketamine for Procedural Sedation in Pediatric Laceration Repair: A Preliminary Report. Pediatr Emerg Care, 2012. 28(8): p. 767-770.

92. Hosseini Jahromi, S.A., et al., Comparison of the effects of intranasal midazolam versus different doses of intranasal ketamine on reducing preoperative pediatric anxiety: a prospective randomized clinical trial. J Anesth, 2012.

93.

Cimen, Z. S., A. Hanci, et al. (2013). "Comparison of buccal and nasal dexmedetomidine premedication for pediatric patients." Paediatr Anaesth 23(2): 134-138.

94. Nooh, N., S. A. Sheta, et al. (2013). "Intranasal atomized dexmedetomidine for sedation during third molar extraction." Int J Oral Maxillofac Surg 42(7): 857-862.

95. Papolos, D. F., M. H. Teicher, et al. (2013). "Clinical experience using intranasal ketamine in the treatment of pediatric bipolar disorder/fear of harm phenotype." J Affect Disord 147(1-3): 431-436.

96. Acker, A. and M.A. Jamieson, Use of intranasal midazolam for manual separation of labial adhesions in the office. J Pediatr Adolesc Gynecol, 2013. 26(3): p. 196-8.

97.

Shavit, I., L. Feraru, et al. (2013). "Midazolam for urethral catheterisation in female infants with suspected urinary tract infection: a case-control study." Emerg Med J.

98.

Chokshi, A. A., V. R. Patel, et al. (2013). "Evaluation of intranasal Midazolam spray as a sedative in pediatric patients for radiological imaging procedures." Anesth Essays Res 7: 189·193.

99. Jayaraman, L., A. Sinha, et al. (2013). "A comparative study to evaluate the effect of intranasal dexmedetomidine versus oral alprazolam as a premedication agent in morbidly obese patients undergoing bariatric surgery." J Anaesthesiol Clin Pharmacol 29(2): 179-182.

100. Filho, E. M., W. B. de Carvalho, et al. (2013). "Aerosolized intranasal midazolam for safe and effective sedation for quality computed tomography imaging in infants and children." J Pediatrics 163: 1217-1219.

101. Mitra, S., S. Kazal, et al. (2013). "Intranasal clonidine vs midazolam as premedication in children: A randomized controlled trial." Indian Pediatr (In press).